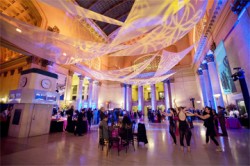 The Mexico Tourism Board presented its new North American campaign "Mexico, Live It to Believe It" at the Great Hall of Chicago's Union Station last week.
"Mexico, Live It to Believe It" showcases Mexico's diverse cultures, ecosystems, flavors, histories, innovations and one-of-a-kind destinations. With an initial investment of $36 million, the campaign spans a variety of media platforms and communications channels with a strong emphasis on digital media.
The campaign will feature national television ad spots debuting later this month showcasing Vallarta-Nayarit and Mexico City. Other destinations such as Yucatan, Los Cabos and Cancun-Riviera Maya will also be highlighted during the first phase of the campaign.
More than 500 people attended the invitation-only event including travel agents, industry associations, hotel chains, tour operators, and elected officials from the City of Chicago and State of Illinois. Rodolfo López Negrete, CEO of the Mexico Tourism Board, served as the evening's keynote speaker.