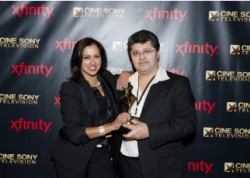 It was a night of great fun and games at Untitled's Hollywood Casino Night as Comcast presented their new feature that allows for more Spanish programming.
Last Thursday, media had the chance to view Cine Sony Television, a channel that features Hollywood films, TV series and music in Spanish, which is available to Xfinity TV customers who subscribe to the Xfinity Latino package.
"We are committed to providing quality entertainment to the broadest range of TV viewers who would like more Spanish-language Hollywood content. With this multi-year Comcast deal we are now able to reach a significant amount of viewers who make up this vibrant market and drive box-office success," said Superna Kalle, senior vice president, Networks, Sony Pictures Television and general manager, Cine Sony Television.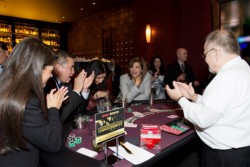 In addition, package subscribers will be able to view select Cine Sony TV films on Xfinity On Demand and online at www.xfinity.com/tv.
"Comcast is thrilled to add Cine Sony to its Xfinity Latino channel line-up," said Ruben Mendiola, vice president and general manager of Multicultural Services at Comcast. "We are always looking to bring the best content available to our Latino offerings, like Cine Sony's Hollywood movies dubbed into Spanish. It's a new and high quality channel that reinforces our commitment to Latino customers." For more information, visit www.cinesony.com.