By: Ashmar Mandou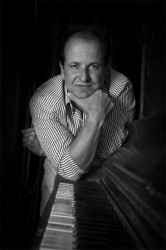 Colombian music composer and producer Julio Reyes Copello has worked with an array of artists from Marc Anthony, Paulina Rubio, Thalía, Nelly Furtado, and Ricky Martin. Most recently, Reyes Copello collaborated with Alejandro Sanz's latest album, "La Musica No Se Toca," in which he played a role as producer earning him the most nominations at this years Latin GRAMMY Awards, including "Producer of the Year." Amid countless interviews, Reyes Copello took time to answer some of our questions about the upcoming Latin GRAMMY Awards set to take place November 21st at the Mandalay Bay in Las Vegas, NV.
Congratulations on your Grammy nominations. What does it mean to you to receive the most nominations of the evening, one of which includes "Producer of the Year"?
It is surprising because when I'm working I'm not expecting anything but to fulfill the expectations of the artist. The fact that The Academy recognizes my work is an honor.
You have worked with an array of talented artists, such as Marc Anthony, Paulina Rubio, Nelly Furtado, and Alejandro Sanz, whose album, which you produced, is also nominated for "Album of the Year," what do you enjoy most about these collaborations between you and the artist?
The friendship and the celebration of life that surround the creative process…music reminds us that we are spirits having a human experience and artists are the messengers. My mission is to create the perfect atmosphere so that they can be free from any inhibition and give the best of themselves. Magic happens when an artist feels great during the making of a record and I certainly enjoy being there to capture the moment.
When you work with artists, like Alejandro Sanz, who have an extensive career, what key ingredients are important in making sure that their sound, their lyrics still are fresh and resonate with listeners across the globe?
Artists with long careers have to deal with the pressure of success and part of my mission is to remind them to trust their own amazing intuition by translating their ideas in the strongest possible way. I have to create the perfect atmosphere for them to feel safe and inspired, and free from the expectation of success. I also try to bring fresh ideas and sounds that connect with the spirit of the artist and not with his mind, because the spirit never gets old.
Can you share with our readers what projects you have in the works?
I'm working on my label, The Art House Records, developing two new artists. The amazing "Brika", a 19-year-old Cuban-American singer/songwriter, and Colombian singer/songwriter Juan Pablo Vega, from my new studio facilities in the heart of Coconut Grove, in Miami. It is a creative sanctuary where I'm having a blast! Last week we had the first bilingual songcamp with the top eight songwriters of USA and Latin America tailor-made for Kat Dahlia, a global priority artist for Epic/Sony.
What are you looking forward to the most come Latin Grammy night?
To have fun and enjoy the night
To learn more about Julio Reyes Copello, visit his page, at www.julioreyescopello.com.