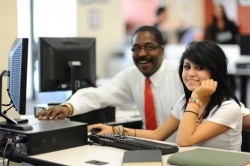 Ombudsman Chicago, nueva opción para los estudiantes de las Escuelas Públicas de Chicago de 14 a 21 años que están fuera de la escuela o que están lejos de graduarse de la secundaria, anunció haber abierto un nuevo local en el 2401 W. Congress Parkway, en el Sector Oeste de Chicago. Los estudiantes pueden aprender más o inscribirse ahora visitando www.chiagodiploma.com o llamando al (312) 806-9022. Chicago West es el segundo centro de aprendizaje Ombudsman en Chicago, otro centro está localizado en el 7500 N. Harlem Ave., en el Sector Noroeste. Un local en el Sector Sur será anunciado más tarde. Ombudsman Chicago ofrece:
  Consejeros de post-secundaria, un centro de Desarrollo de Carreras, internados, oportunidades de 'job shadowing' para que los estudiantes puedan aprender sobre carreras académicas y carreras basadas en sus destrezas e intereses
El apoyo emocional y de comportamiento, incluyendo un trabajador social licenciado y consejería individual y de grupo, para desarrollar las destrezas necesarias para establecer una relación positiva y la auto confianza necesaria para triunfar.
Colegiatura gratuita.
Ombudsman está acreditada por North Central Association of Colleges and Schools (NCA) y AdvanceED y el currículo está alineado con CPS y los requisitos de graduación del estado de Illinois, para garantizar que los estudiantes obtienen un diploma acreditado.