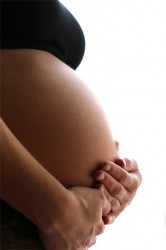 El Hospital St. Anthony recibió un subsidio de March of Dimes Illinois Chapter,que permitirá al hospital ofrecer una serie de 12 horas de clases prenatales gratis, en inglés y español, para mujeres embarazadas. Las clases están basadas en el currículo de educación prenatal Becoming  a a Mom/Comenzando Bien, de March of Dimes.
          En respuesta a la creciente demanda de servicio que promuevan la salud y brinden apoyo durante el embarazo y el principio del desarrollo del niño, el Programa de Enlace de Bienestar Comunitario del Hospital Saint Anthony lanzó CIELO en 1993. CIELO ofreció pruebas de embarazo gratis, referencia a cuidado prenatal, clases de educación prenatal y ayuda para completar las solicitudes de beneficios estatales y federales para mujeres embarazadas. En el 2001, las clases prenatales del St. Anthony adoptaron el currículo Becoming a Mom/Comenzando Bien, de March of Dimes, para complementar el cuidado médico que recibía la mujer embarazada. En el 2011, alineamos nuestro hospital y el currículo en base a la comunidad, garantizando un enlace consistente y unificado a la educación prenatal, utilizando el currículo de March of Dimes y aumentando la disponibilidad de clases a los padres de la comunidad.
          El 2 de noviembre del 2013, el Hospital St. Anthony comenzará una serie de 12 horas, de cinco clases prenatales, Después de asistir a las clases, las madres embarazadas podrán tomar mejores decisiones sobre su cuidado y el de sus hijos, también podrán desarrollar un grupo de apoyo con otras madres.