By: Ashmar Mandou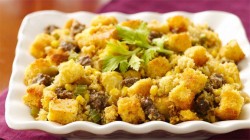 With Thanksgiving around the corner, we decided to share with you some of our favorite recipes that you and your family will enjoy.  From Chef La La's Cranberry Mango Salsa to Nutritionist Malena's delicious Sea Scallops Ceviche, their twist on the classics will surly leave reaching for seconds at the dinner table. 
 Corn-Chorizo Stuffing
40 min prep time
Total time 1hr 30min
www.pillsbury.com
Ingredients
2 pouches (6.5 oz each) cornbread & muffin mix
2/3 cup milk
¼ cup butter or margarine, melted
2 eggs
1 lb chorizo sausage
1 large onion, chopped (1 cup)
¾ cup chopped celery
1 bag (12 oz) Green Giant Valley Fresh Steamers Niblets frozen corn, thawed
1 can (4.5 oz) Old El Paso chopped green chiles
2 to 3 teaspoons poultry seasoning
1 teaspoon salt
½ teaspoon pepper
2 ½ to 3 cups Progresso chicken broth (from 32-oz carton)
Step 1
Heat oven to 400°F. Spray 15x10x1-inch pan with cooking spray. In large bowl, stir cornbread mixes, milk, butter and eggs just until moistened (batter will be lumpy). Spread batter in pan. Bake 10 to 12 minutes or until toothpick inserted in center comes out clean. Cool in pan 10 minutes.
Step 2
Cut warm cornbread into 1/2-inch cubes, leaving in pan. Stir cubes. Bake 10 minutes. Stir cubes again; bake 10 to 15 minutes longer or until golden brown on top. Dump cubes into large bowl. Reduce oven temperature to 350°F.

Step 3
Meanwhile, in 12-inch skillet, cook sausage, onion and celery over medium-high heat 7 to 10 minutes, stirring frequently, until sausage is no longer pink; drain if desired. Stir in corn, chiles, poultry seasoning, salt and pepper.
Step 4
Stir sausage mixture into cornbread cubes. Gradually stir in just enough broth to moisten stuffing without making mixture mushy. Spoon mixture into ungreased 13×9-inch (3-quart) glass baking dish. Cover with foil; bake 25 minutes. Uncover and bake about 15 minutes longer or until hot in center (165°F).
Cranberry Mango Salsa
10 min prep time
 2 large tomato, small dice
1 mango, peeled, small dice
1 can cranberry sauce
1 medium red onion, small dice
3 cloves garlic, minced
1 fresh jalapeño, small dice
1 stalk green onions, thin sliced
¼ bunch cilantro, chopped
½ lime, juiced
Salt to taste
Combine all of the ingredients in a medium sized bowl.  Taste.  If the chilies make the salsa too hot, add some more chopped tomato.  If not hot enough, add another chile.  Adjust salt.  Refrigerate for 30-60 minutes allowing flavors to combine. 
Sea Scallop Ceviche Stuffed Avocado
15 prep time
Total time 1 hr 15 minutes
½ lb. fresh sea scallops, chopped
½ red bell pepper, seeded, chopped
½ red onion (about 1 cup), chopped
1 jalapeño, deveined, seeded, chopped
1 medium orange, segmented
3 Tbsp. fresh squeezed lime juice
1/8 tsp. lime zest, chopped
½ cup cilantro leaves, chopped
2 tsp. honey
Salt and pepper to taste
|2 large ripe, Fresh Avocadoes cut lengthwise, pitted, peeled and diced
4 large ripe, Fresh Avocados, cut in half and seeded
 Step 1
Chop and combine all ingredients in a covered bowl, except for the avocado
Step 2
Place in the refrigerator for one hour.  Scallops will be cooked in the lime juice
Step 3
Mix with the diced avocado
Step 4
Take the additional 4 avocados that have been halved and serve ceviche inside each avocado halve.