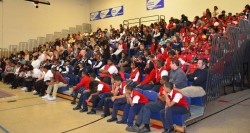 Lost in the noise of mainstream media's coverage of urban violence are the ones mostly deeply impacted by the epidemic: the youth. Yet grassroots community activism commits to reshaping the national conversation by creating positive platforms for the resounding voices of young people to be heard.
Last Saturday, middle and high school students from across Chicago, along with parents and civic leaders gathered at Holy Family Ministries Center in the North Lawndale neighborhood to participate in "Transforming Pain Into Power," a day-long town hall encouraging youth to become agents for positive change in their communities.
Presented by the Peace Exchange: Chicago – Asia 2013, the conference featured a national panel discussion of prominent civic leaders, performances by popular local artists and educational workshops. Local rapper and Peace Exchange director of communications Jessica Disu, also known by her stage name FM Supreme, hosted the peace and restorative justice themed town hall.
Reverend Joan R. Harrell of Washington Heights' Trinity United Church of Christ opened "Transforming Pain Into Power," with a prayer entitled "The Youth Peace Prayer," written by Rev. Dr. Otis Moss III. It set the stage for a day of mindfulness and reflection.
The panel discussion sparked lively and constructive dialogue in the gymnasium-turned-auditorium as the conscientious crowd listened.
The "dream" panelists were Jamira Burley, the executive director of the Philadelphia Youth Commission, Dennis Johnson, Chicago State University student and peace advocate, Dr. Ozella R. Barnes, director of A Safe Place, Joy McCormack of Chicago Citizens for Peace, Henry Cervantes of The Peace Exchange, and Jahlil Porter, a student at Little Black Pearl High School.
These intelligent and experienced group of speakers provided crucial, eye-opening insight.
During the discussion, Dr. Barnes said that the youth are in crisis. "The thing that strikes me the most is how the value of life has decreased," Barnes said. "They call a 21 year old O.G."
After her son's tragic death in 2009, Joy McCormack identified the great need for victims' family support. "The challenge is we are the unheard voice," McCormack said. "…[but] when kids start to hear the reality of violence…they think differently…it becomes real."
That harsh reality of losing loved ones brought solemnity to the room, but it forced those traumatized by violence to re-think their anger, frustration and pain and transform it into restorative and positive action.
Between discussion and workshops, local artists performed to edify or entertain. The L.Y.R.I.C. Squad, a Chicago-based spoken word and mentoring troupe, dramatized their personal struggles with mental health pressures from friends, families and institutions. The emotional gravity, honesty and poignancy of their stories transfixed the people.
Other artists offered more light-hearted and energetic fare. They included the rapid fire stage craft of Chicago dance ensemble Chicago FootworKingz and the much buzzed about bop rappers SICKO MOBB.
Although the city's fight against urban violence remains an uphill battle, the Chicago peace movement's pillars of diplomacy and youth engagement continue to inspire those to join a truly important cause.