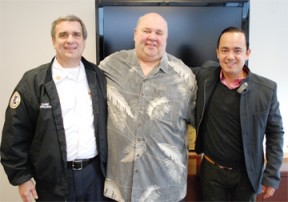 In a gesture of good will, the Town of Cicero recently helped a city in need.
Two weeks ago, Cicero Town president Larry Dominick met with the President of the Municipality of Juanacatlan, Jalisco, Mexico Mr. Jose Pastor Martinez Torres. President Dominick presented a considerable charitable donation of equipment from the Cicero Fire Department.
The equipment presentation took place at the Cicero Town Hall. In addition to President Dominick and President Martinez Torres, Fire Marshal Ron Opalecky and Alderman Rafael Moreno Soriano were also in attendance.
"We are very pleased to be able to donate this equipment to a community that needs it, like the city of Juanacatlan in Mexico," President Dominick said.
An approved ordinance in August by the Town Board made the donation possible once the Cicero Fire Department replaced the old equipment. The donation consisted of fire safety jackets, oxygen masks, hats and other equipment.
Through an interpreter, President Martinez Torres expressed his gratitude for the equipment as it will bolster the Juanacatlan Fire Department's fire-fighting endeavors. The city of Juanacatlan consists of more than 20,000 residents and is situated in the state of Jalisco's downtown.
In addition to his correspondence in Cicero, President Martinez Torres visited Chicago to attend Club Pro Juanacatlan's Tenth annual dinner-dance, a fundraising benefit for the municipality on Saturday, November 23rd.