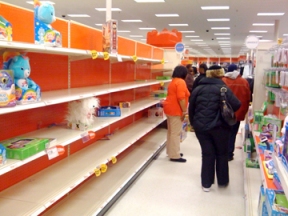 After gobbling up their Thanksgiving day feasts, shoppers made a mad dash to retailers on one the year's most publicized retail extravaganzas.
Last Thursday, Target kicked off the Christmas shopping season with Black Friday. Located on 1 S. State Street in the heart of a bustling downtown evening, this Target location opened its doors at 8:00 P.M, an hour earlier than the previous year.
Target's Black Friday sales lasted from 8:00 P.M. Thursday evening to 11:00 P.M. the following day. Hundreds of items had high mark downs from their original prices, and the biggest sellers of night came from the electronics department, including 50-inch, flat screen Element TVs, IPads, and Beats by Dre headphone gear.
Although the State Street Target location only experienced its second Black Friday ever, over 80 employees met the challenges of an energetic retail atmosphere.
Target staffers were stationed at key departments throughout the two-floor store, passing out shopping guide maps and diligently assisting consumers.
Mike Quinn, Target's store manager, said he made sure that the employees had fun and were able to share in the Black Friday excitement with the crowds.
"It's become part of that tradition with Thanksgiving," Quinn said.
Quinn said that when the first person made the first purchase, everyone was ecstatic.
"It has that feel of a larger event, like a rock concert," Quinn said. "[Yet] everybody's been safe, well-behaved and patient."
If those who missed Black Friday are still interested in deals, the shopping experience went digital on Cyber Monday, where low-price sales items were available online. Target will continue to have affordable sales throughout the holiday shopping season in-store and online at target.com.