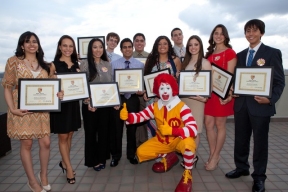 In partnership with Ronald McDonald House Charities, LULAC National Educational Services Centers, Inc seeks to provide the highest quality educational opportunities to Latino high schools students in the US through the RMHC/HACER scholarship program.
Established in 1985, RMHC/HACER is one of the largest scholarship funds available to Latino youth pursuing higher education.
Since the award began, more than $24 million has been awarded to deserving Latino students going to college. In 2008, the program expanded its funding efforts to include four RMHC/HACER National Scholarships, each a total sum of $100,000.
Scholarships are awarded on the regional and national levels. Applications for the 2013-2014 RMHC/HACER National Scholarship will be accepted through January 21, 2014.
For more details, visit www.rmhc.org or www.meencanta.com.
Below is a list of general eligibility requirements for the RMHC/HACER scholarships:
• Be a high school senior
• Be younger than 21 years old
• Have at least one parent of Hispanic/Latino heritage
• Be eligible to attend a two- or four-year college, university or technical school with a full course of study
• Be a legal U.S. resident
• Live in a participating RMHC Chapter's geographic area