BAKED SALMON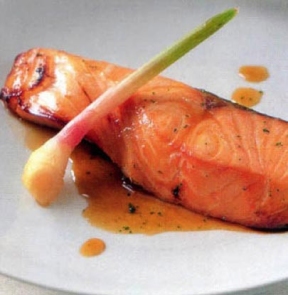 4 Salmon fillets
Olive Oil
3 Chopped fresh tomatoes
Chipotle Sauce
Instructions:
Place Salmon in a casserole dish.
Brush with a little olive oil on each piece.
Sprinkle with salt and pepper.
Add chop tomatoes and 1 pat of butter on each piece.
Bake at 350 F for 25 minute.
To serve, remove the tomato, place the salmon on the plate, drizzle some drippings from the dish, and garnish with a shaven green scallion stick.