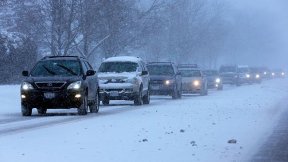 The extremely cold weather has affected not only the comfort of our living conditions but also our safety on the road. That's why the Illinois Department of Transportation (IDOT) urges Illinois motorists to be safe and aware of the potential dangers of traveling.
IDOT offers these important safety reminders:
• Allow extra time for travel during the winter months.
• Don't crowd the plow – a snow plow operator's field
• of vision is restricted. You may see them, but theymay not see you.
• Be aware that black ice can form on roads that appear clear and the unseen
• Take it slow when approaching intersections, off-ramps, bridges and shady areas
• Always keep your gas tank at least two-thirds full to help prevent the vehicle's fuel line from freezing.
• Carry a cell phone and dial *999 for roadway assistance in case of emergency
• Always wear a seat belt, front seat or back – it's the law.
• Check travel and road conditions routinely before any trip.
You can get road condition information by calling 1-800-452-IDOT (4368), Illinois Tollway information by calling 1-800-TOLL-FYI or online at www.gettingaroundillinois.com and click on the "winter road conditions" icon.