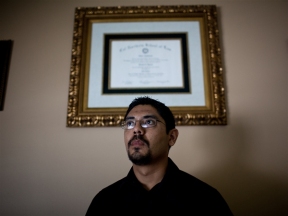 Immigrant rights groups across the country are celebrating last month's California Supreme court decision to allow an undocumented Mexican immigrant to practice law.
The California Supreme Court ruled unanimously in favor of Sergio Garcia. In the previous year, California lawmakers approved a bill that authorized the courts to allow qualified candidates, regardless of immigration status, to be admitted to the bar.
"Under these circumstances, we conclude that the fact that an undocumented immigrant's presence in this country violates federal statutes is not itself a sufficient or persuasive basis for denying undocumented immigrants, as a class, admission to the State Bar," California Chief Justice Tani Cantil-Sakauye wrote in her decision.
Coalition for the Humane Immigrant Rights of Los Angeles recently released a statement regarding the ruling.
The Dreams of many became much closer to becoming a reality today that the California Supreme Court ruled in favor of young professionals, like Sergio Garcia, who have met every requirement in the book to practice their craft but happen to be undocumented immigrants.

This is a bright new day in California history and bodes well for the future of the United States of America.

We start 2014 with high hopes that soon justice will also prevail for millions of undocumented immigrant workers who give it their all for the sustenance of their children, the strength of their families, and the vitality of an immigrant nation."