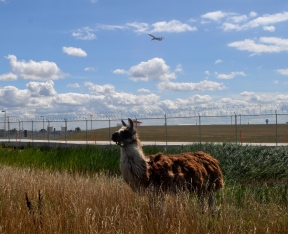 A grazing herd of goats, sheep, llamas and burros successfully completed a 120 acre landscaping project administered by the Chicago Department of Aviation (CDA).
The landscaping project took place at four O'Hare property sites such as hilly areas, creeks, streams and roadway right-of ways that were overtaken by scrub vegetation.
"On behalf of Mayor Rahm Emanuel, we were thrilled to bring this unique program to O'Hare. This pilot initiative is another example of an aviation industry green initiative that also complements the City of Chicago's commitment to sustainability at Chicago's airports," CDA Commissioner Rosemarie S. Andolino said.
Central Commissary Holdings (CCH), a Chicago-based restaurant concept and development management company, ran the pilot program of the landscaping project, which will run through the end of 2014.
In partnership with CCH, Settler's Pond, a no-kill shelter in Beecher, Illinois, provided 37 animals to be part of the grazing herd.
The use of farm animals had considerable economic benefits including decreased landscaping maintenance costs, more efficient vegetation removal process, and environmentally-safe alternative to toxic herbicides.
The grazing effort will resume in spring 2014.