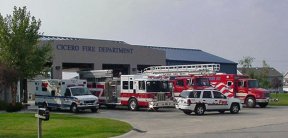 Cicero Police and Fire officials announced that charges have been filed against a Cicero high school-aged teenager for allegedly starting the 5 Alarm fire that destroyed a vacant warehouse and a neighboring business on 54th Avenue on Tuesday night, Jan. 21.
According to the investigation, the juvenile suspect in the warehouse fire was arrested on Friday night at around 5 pm after information was given to the Cicero Fire Department investigators who took the information to the Cicero Police.
"We're very pleased that this fire has been resolved and a suspect has been identified," said Fire Chief Ron Opalecky.
The suspect was apparently with a group of possibly two other high school-aged teenagers who went to the warehouse and then started a fire, possibly to keep warm. The suspect began playing with the fire and in so doing, caused the fire to spread, at which time they teenagers fled.
Fire officials said that a second house fire in the early morning a few blocks east of the warehouse fire was also resolved and determined to have been caused accidently by a space heater.
"These are terrible tragedies and many lives have been disrupted," Cicero Town President Larry Dominick said. "I'm proud of the hard work that our employees and Fire and Police officials put into protecting our community and responding to emergencies."