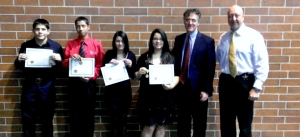 On December 11, 2013, Cook County honored four Cook County High School students with the Cook County Sheriffs Youth Service Medal of Honor at the UIC Forum in Chicago.
These four Berwyn Police explorers, Marissa Antosiak, Delilah Mendez, Jonathan Flores, and Nathan Martinez were presented the awards by Cook county Sheriff Thomas J. Dart for volunteering over 100 or more hours of community service.
Over 330 Medal of Honor students were recognized by the Berwyn Police Department. Students volunteered at various institutions, including hospitals, churches, schools, senior centers and local charities.
These students participated in the Berwyn Police Department Police Explorer program, an opportunity for youth to become committed to the community by serving as positive role models.