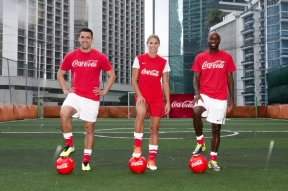 By Eleanore Catolico
As anticipation for the FIFA World Cup reaches a fever pitch, youth soccer players across America get a chance to kick their way to stardom, one goal at a time.
The Coca-Cola Company champions soccer passion by sponsoring the second Copa Coca-Cola Soccer Tournament, giving hundreds of teens from 60 countries an opportunity to showcase their talents on the global soccer field.
"Soccer has had a huge impact on my life and Copa Coca-Cola will allow me to share my love and passion for the game with a whole new generation of players," U.S. Women's Soccer Olympic Gold Medalist Alex Morgan said in a recent statement.
For local youth soccer players, it's time to seize this rare opportunity to make their athletic dreams come to life as several spots remain open for the Chicago regional tournament.
"Chicago is a major, urban city center, and we thought it would be terrific to bring the tournament [here]," Coca-Cola Hispanic Marketing Group Director Alba Adamo said.
Boys and girls ages 13 to 15, will compete at the Copa Coca-Cola Soccer Tournament in Chicago in a round-robin style, regional tournament, which will take place on March 1, 2014 at the Chicago Sports Complex, located at 2600 West 35th Street in Chicago.
The tournament format is a 30 team, round-robin style tournament per bracket (separate boys and girls). Six divisions of five teams will advance the first and second place teams to the playoffs. There will also be a second chance division for additional teams to advance, according to the Copa Coca-Cola website.
These games all lead up to the national tournament taking place in Los Angeles from April 18-20, where teens from the ten participating cities, including San Jose, Los Angeles, Seattle, Houston, Dallas, San Antonio, Miami, Atlanta, New York, and our city of Chicago will compete for the title of 2014 Copa Coca Cola tournament champions.
Four players from the national championship teams (two boys and two girls) will have an opportunity attend the Copa Coca-Cola Soccer Camp in Brazil.
Yet the Copa Coca-Cola Tournament is not only about competition, but also about cultivating better lifestyles for children and their families embracing cultural diversity.
"Soccer is the fastest growing sport in the world," Adamo said. "The kids have an opportunity to connect with other kids from 60 countries and probably of many nationalities. They can live that global experience."
To be a part of the Chicago regional tournament, five and seven-player teams (five aside and two substitutes) must register by 11:59 p.m. E.S.T. on February 16, 2014 at www.copa.coca-cola.com, with information available in both English and Spanish. Registration is on a first come, first serve basis.