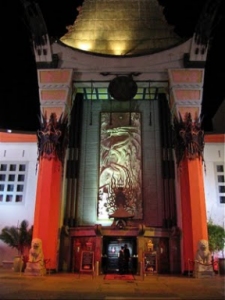 Cinephiles everywhere can realize their dreams of flashing lights and the silver screen in one of Tinseltown's premier venues.
On January 9, 2014, the national non-profit Latino Art Beat (LAB) announced its first ever collaboration with the 10th annual Hollyshorts Film Festival in Hollywood, California by creating a 'Youth Film Competition 2014' category.
The winner will receive a $10,000 renewable scholarship to the School of the Museum of Fine Arts in Boston and will have his or her film screened, along with select runners up, at the TLC Chinese Theatre, formerly Grauman's Chinese Theater, where acting icons like Jack Nicholson and Shirley Temple literally cemented their legacies in hand prints.
Filmmakers must be 21 years old or younger and can submit short films of 15 minutes or less in the following sub-categories: Live Action, Documentary, PSA, My Life (for Latino students only), and Animation.
The corporate partnership, one of many in Latino Art Beat's storied record of non-profit service, helps give high school and college filmmakers opportunities to showcase their cinematic imaginations and moves forward the arts education mission spearheaded by Latino Art Beat President and Co-Founder Don Rossi Nuccio.
Established in 1998, Latino Art Beat's primary objective is supporting the college-bound ambitions of Latinos with academic scholarships and through visual arts competitions that engage youth in communities across the United States such as Chicago, Houston, Los Angeles, Miami and Washington D.C.
It's more than a passion project for Nuccio, who obtained business law degrees from DePaul University and University of London and has entrepreneurial experience in the entertainment industry overseas.
"I want to give back to kids and inspire kids who are involved in visual arts," Nuccio said. "Coupled with the talent level and the education, Latinos have a better chance at getting careers."
According to a 2012 Pew Research Center study, the US Census Bureau reported that 49 percent of Hispanic high school students enrolled in college programs, nearly a 10 percent increase since 1993. Although US Latino students still face obstacles in pursuing higher education, these statistics reveal a more promising future.
For Nikola Stojkovic, director of the indie short Visiting the Museum, Latino Art Beat has not only provided financial support and technical resources but has also helped him grown as an artist.
"I like to think of myself as a permanent fixture within the LAB family, and hopefully will be working to bring many more films to audiences, inspiring them to come forward," Stojkovic said. "The more LAB achieves, the more our family grows, and the more we help…teens."
Along with writer Manny Reyes, the charming Visiting the Museum, about two teens who go to an exhibit and discover a resurrected mummy, delighted children and adults alike when it was screened on the Royal Princess cruise line in 2013.
Latino Art Beat's 17 year existence has slowly built a strong following amongst its former arts competition winners, and these winners have transitioned into volunteering and mentorship roles that foster the fraternal spirit of the organization.
"Our students accept us because of our hands on approach and that will be the philosophy of Latino Art Beat forever," Nuccio said.
The earlybird deadline for HollyShorts Film Festival's Youth Competition Category is February 7.
For more information on the film competition, contact latinoartbeat@hotmail.com or admin@hollyshorts.com. To learn more about Latino Art Beat, go to www.latinoartbeat.com.