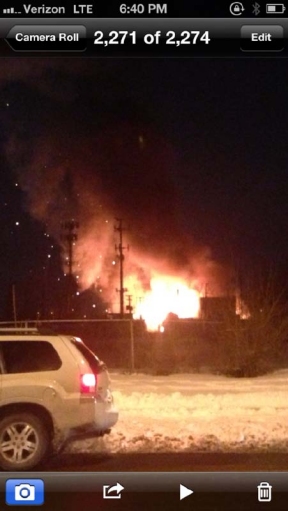 A major fire caused concern on Tuesday night as it engulfed a vacant warehouse located at 1829 54th Ave in Cicero. The fire was just west of the Cicero Animal Shelter, although none of those animals were in jeopardy.
Cicero Water employee Dave Duran had just repaired a broken water main and was returning to a garage on Laramie Avenue when he saw the fire. He immediately contacted the Cicero Fire Department, who worked diligently in responding to the call and making sure the fire did not cause injury or worsened property damage.
The fire was upgraded to a Four Alarm and spread to Central Steel Fabricators building located at 1843 54th Ave in Cicero.
Around 3:30 a.m. the following morning, a second fire occurred at 1410 South 50th Court in Grant Works and spread to the neighboring home.
The Cicero Fire Department put these fires under control and no one was reported injured.
The Cicero Alternative School located at 1874 S. 54th Avenue was closed on Wednesday. The school was used through the night and this morning as a warming center for firefighters and emergency response teams.
"The Town of Cicero wants to express its gratitude to the many different fire departments that came to the assistance of the Cicero Fire Department in fighting these fires," Town President Larry Dominick said. "The most important issue is that everyone is safe."
Dominick said Cicero Fire and Police are investigating the causes of both fires.