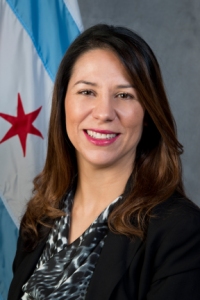 Earlier this month, Mayor Rahm Emanuel named Maria Guerra Lapacek the new Commissioner of the Chicago Department of Business Affairs and Consumer Protection (BACP). Her new position calls her to enhance communications and consumer relations between officials, communities and small businesses.
Guerra Lapacek has a proven record in city government. She currently acts as the First Deputy Director of the Office of Legislative Counsel and Government Affairs, where she organized meetings between government offices and neighborhood groups as well as helped strategize policy measures including the 2012 licensing reform ordinance.
Growing up in Humboldt Park, Lapacek was exposed to the hard work and dedication of small business owners at a young age, as her parents ran a clothing store on North Ave. The business became a family affair, and her parents earned a loyal clientele of customers in the Hispanic community.
"The reason that I got into government was that opportunity to help people and to engage people like my parents," Lapacek said.
One of the City of Chicago's new initiatives is the Small Business Center (SBC), which helps streamline the process of permit and license reviews for entrepreneurs.
"The idea of the Small Business Center is one point of contact that would provide you all the information that you need in the language that you need," Lapacek said. "For us it's very important to get these businesses up and started."
The website for the SBC provides access to critical services in both English and Spanish such as information on tax credits, loans and grants, listings of sites leased for sale in neighborhoods across Chicago, and a licensing fact sheet which includes costs and inspections requirements for business licenses.
Lapacek said that these efforts to help business owners navigate city government aims to overall improve the relations between the parties involved, but also hopes to aid the success of theses businesses in the long-term, especially those who have had to overcome personal obstacles.
"We want innovators and entrepreneurs to come open up in Chicago," Lapacek said. "So
it's very encouraging to see people transcending language barrier or any educational barrier they have when they open a business. It's the most rewarding thing."
After City Council approval, Lapacek will officially begin her appointment as the new BACP commissioner on February 5th, succeeding Rosemary Krimbel.
For access to SBC services and resources, go to www.cityofchicago.org/SBC.