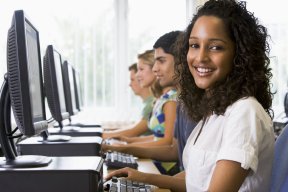 St. Augustine College extends the spring semester registration period until February 7, 2014 due to the polar climate which has affected the safety of commuters.
St. Augustine will provide financial aid workshops every Wednesday during the month of February (5, 12, 26 and 29,) from 5pm to 8pm at all locations. An additional financial aid workshop will be provided on Saturday, February 8th, from 10am till 1pm, at COMFEMEX, 2838 W. Cermak Rd., in Chicago.
These workshops will provide assistance in filling out FAFSA applications for federal and state grants. Applications should be submitted as soon as possible, since it is expected that the funds for the state MAP grants will run out by the end of February.
St. Augustine College is also proud to inform that the winner of the spring $9,120 scholarship sweepstakes, that covers tuition for one year, is Jaqueline Leon, who is interested in pursuing an Administrative Assistant degree.
For more information regarding registration and workshops, or to register for a $9,120 scholarship call 773-878-8756 or visit staugustine.edu.