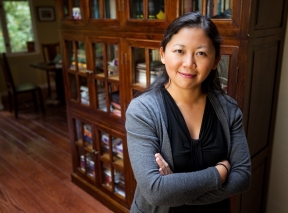 In March, the Chicago Public Library hosts several notable authors including Yiyun Li, Chris Jones, Ira Berkow and Ruben Martinez, for fascinating discussions as part of its monthly Authors @ the Library series.
All programs, unless otherwise noted, take place at the Harold Washington Library Center, 400 S. State St., in the Cindy Pritzker Auditorium (Lower Level).
YIYUN LI
Thursday, March 6 at 6 p.m.
Author Yiyun Li returns to discuss her new novel, Kinder Than Solitude, an unforgettable story about three friend whose lives have changed because of a murder, with Elizabeth Taylor, literary editor for the Chicago Tribune.
CHRIS JONES
Tuesday, March 11 at 6 p.m.
Chris Jones, chief theater critic for the Chicago Tribune discusses his recent book, Bigger, Brighter, Louder: 150 Years of Chicago Theater as Seen by Chicago Tribune Critics.
IRA BERKOW
Wednesday, March 26 at 6:30 p.m.
Pulitzer Prize winning journalist Ira Berkow discusses his recent book, Wrigley Field: An Oral and Narrative History of the Home of the Chicago Cubs, which documents the stadium's entire career through a decade-by decade.
RUBEN MARTINEZ AND CHRIS ABANI
Thursday, March 27 at 6 p.m.
Celebrate migration and storytelling during this One Book, One Chicago program that teaches us about ourselves and others. The program features discussions by Ruben Martinez, author of The New Americans: Seven Families Journey to Another Country, and Chris Abani, author of Graceland, The Virgin of Flames and The Secret History of Las Vegas.