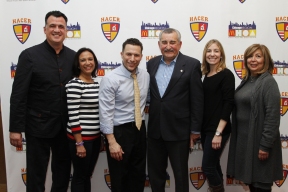 On January 31st, The McDonald's Hispanic Owner-Operators Association (MHOA) and Mike Oquendo Events presented the opening night of Elizardi Castro's Law & DISorder in support of RMHC®/HACER® Scholarship Program.
The purpose of this program is to increase the number of scholarships at the local level to benefit Hispanic students. The HACER® Scholarships will help young Hispanics with financial needs that have demonstrated their academic and leadership abilities as well as their sincere wish to serve their community.
The Law & DISorder comedy show exposes the trials and tribulations of being a Puerto Rican prosecutor turned defense attorney, delivering a unique opportunity to experience Elizardi Castro's bold and captivating humor.
Written, directed, and performed by Elizardi, this show reveals how he went from being an attorney to being a comedian and also displays his strength to pursue what he truly wanted to do.
This masterful storyteller, actor, comedian, and playwright delivers in an impactful way the basic message in this performance, which is to follow your dreams.
For more information about upcoming performances, visit www.vittumtheater.org. All proceeds go to the RMHC®/HACER® Scholarships.