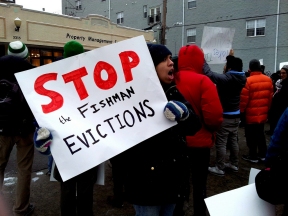 Logan Square Residents Protest Evictions
By Eleanore Catolico
Dozens of protestors braved the blistering chill last Thursday, voicing their frustration against one of the city's developers.
On the evening of January 30, tenants, renters' rights advocacy groups and neighborhood organizations picketed the front gate of the property management company M. Fishman & Co.'s headquarters, located at 3215 West Fullerton Ave. in Logan Square.
The property management company purchased a 50-unit apartment complex at 2536 N. Sawyer late last year. In December, M. Fishman & Co. subsequently sent 30 day eviction notices to the tenants, ranging from students to families, or face a 250 dollar rent increase.
Organized by the Metropolitan Tenant's Organization along with members of the Logan Square Neighborhood Association, the protest began outside the gates of M. Fishman & Co's headquarters at 4:30 p.m. despite the cold winds, where protestors young and old gave testimonials condemning the developer's actions.
The Chicago Police Department drove by and monitored the protest, which remained passionate, but did not escalate beyond harsh words. Tenants one by one spoke to the crowd, demanding that M. Fishman & Co. honor their lease agreements with the tenants.
The protestors then marched to the Fishman-owned Logan Theater at 2646 N. Milwaukee, one of more than 30 properties owned by the company. Cardboard signs of "Somos Logan Square" and chants of "Fishman equals Mass Evictions" electrified the street, garnering car honks of support but also snarky comments from passersby.
Tenant Paul Donnelly marched with the other protestors, relating to that he stood with them in solidarity.
"It really disappoints me that someone would come in and evict an entire building like that," Donnelly said. "We're here to tell them no, we're not gonna stand this."
According to the City of Chicago's Residential Landlord and Tenant Ordinance's Municipal Code Ch. 5-12-130, the owner must provide a 30-day notice to tenants if the rental agreement will not be renewed.
Technically, M. Fishman & Co. did not violate any law, but residents are concerned that the company's actions contribute to a larger growing sense of cultural displacement of working families in the neighborhood.
For Luis Tubens, who grew up in Logan Square but is now living in the Southside, it's not the first time that he's seen these tensions between residents and developers.
"It was the high rents that pushed me out," Tubens said. "I've seen a lot of friends and family members leave because they could not afford to live here [Logan Square] anymore."
Currently, there are no rent control laws in the state. In 1997, the Illinois legislature enacted the Illinois Rent Control Preemption act, which effectively banned any enforcement of rent controls in private and commercial properties.
In recent years, Chicago has seen rental prices rising. In a 2012 report released by Deutsche Bank A.G., revealed it costs a city resident 31 percent more to rent a home versus buying one.
Metropolitan Tenant's Organization Community Organizer Noah Moscowitz said that the protest's ultimate goal was to protect the rights of the Sawyer apartment complex tenants in the midst of this difficult housing climate.
"The landlord has the right to refuse a tenant's lease," Moscowitz said. "The question is whether it's right or wrong."
M. Fishman & Co. could not be reached for comment.
Photo Credit: John McDermott, Logan Square Neighborhood Association