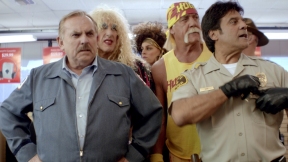 RadioShack's 30-second Superbowl ad entitled "The Phone Call" featured '80s pop culture icon ready to reclaim their technology, helping the brand turn a page on the Radioshack of the past.
"This is a bold, strategic move for RadioShack, and we're using the Super Bowl as the platform to get people to rethink RadioShack," RadioShack Senior Vice President and Chief Marketing Officer Jennifer Warren said. "This ad is meant to grab attention, make viewers laugh, and let people know, it's out with the old and in with the new."
In an effort to continue "clearing out the '80s" and celebrate #InWithTheNew, RadioShack hosted a 24-hour sweepstakes via Twitter, which launched in line with our Super Bowl ad.
The brand unveiled unique '80s-themed prizes via the @RadioShack Twitter throughout Sunday and Monday (2/3), and consumers who followed @RadioShack and tweet a fun comment with the prize hashtag are entered to win one of the retro relics, like Air Jordan 1 sneakers, along with a $100 gift card.
Consumers also can view a special 60-second extended version of the ad, digital shorts, behind-the-scenes footage of RadioShack's Super Bowl fun, at YouTube.com/RadioShack.
The Super Bowl ad lays the foundation for RadioShack's recently announced brand positioning, "It Can Be Done, When We Do It Together." The new positioning speaks to the brand's ability to collaborate with consumers to help them discover what is possible through technology.