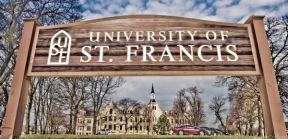 University of St. Francis students attended the 31st Annual National Conference of the United States Hispanic Leadership Institute (USHLI) in Chicago, Feb. 13-16.
The event attracted leaders from more than 40 states and 1,000 affiliated groups and organizations to celebrate Hispanic heritage and empower communities.
The USHLI conference is the largest cross-generational Hispanic conference in the nation, attracting students, young professionals, career professionals and senior citizens. Conference participants come together to develop and/or strengthen their leadership skills and to grow as servant leaders.
The following USF students attended the USHLI conference:
• Channahon – Shannon Patino
• Chicago – Marcos Ayala, Melanie Fonseca, Valeria Martinez and Diana Trujillo
• Crest Hill – Leslie Juarez
• Evergreen Park – Medelia Garcia and Jason Julian
• Glendale Heights – Maria Fernanda Quevedo
• Glenview – Megha Patel
• Joliet – Tanya Arias, Alex Campos, Estefani Gonzalez, Blanca Limon, Ricardo Magadan, Laura Munoz, Ulises Ornelas and Stephanie Rodriguez
• Lynwood – Kristy Garcia
• Romeoville – Melissa Bahena
• Spring Valley – Miguel Aldana
• Tinley Park – Princess Clemente
• Beijing, China – Jiaxi Hou
For information, call (800) 735-7500 or visit www.stfrancis.edu.