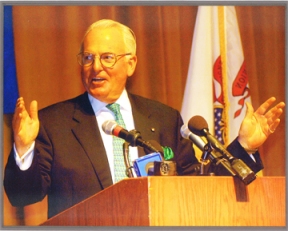 The Honorable Edward M. Burke officially celebrated forty-five years in office as Alderman of the 14th Ward on Tuesday, March 11, 2014. The City Club of Chicago marked the anniversary by bestowing the Excellence in Public Service Award on Alderman Burke recognizing his four-and-a-half decades of outstanding public service.
Alderman Burke began his career in 1965 as a Chicago police officer and entered politics following in the footsteps of his father, Joseph P. Burke. He became Democratic Committeeman of the 14th Ward in 1968 and Alderman in 1969.
At City Hall, Alderman Burke has carved out a long and impressive history as a legislative leader. He has championed anti-smoking measures, mandatory carbon monoxide detectors, secured increased death benefits for the families of first-responders killed in the line of duty, established the City's first-ever gun offender registry, banned texting while driving, and outlawed the use of the controversial chemical BPA in children's products.
The Dean of the Chicago City Council, Alderman Burke also serves as its unofficial historian and parliamentarian. Throughout his career, he has been an avid student of Chicago history and is the co-author of three books: Inside the Wigwam: Chicago Presidential Conventions, 1860-1996; End of Watch: Chicago Police Killed in the Line of Duty, 1853-2006; and Glory & Government, Chicago's City Hall at 100.
A lifelong resident of the Southwest Side, Alderman Burke earned his bachelor's degree from DePaul University in 1965. He received his Juris Doctor degree from DePaul University College of Law in 1968 and was admitted to the Illinois Bar that same year. Alderman Burke and his wife, Anne, a Justice of the Illinois Supreme Court, are the parents of five children, and reside in the Archer Heights community.