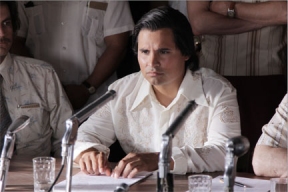 By: Ashmar Mandou
Cesar Chavez and the United Farm Workers movement inspired millions of people to dedicate themselves to social, economic, and civil rights issues. Chavez's legacy continues to educate, motive, inspire, and empower millions from all walks of life to create social change through non-violence. It was the very spirit of Chavez that inspired actor Diego Luna to direct the much anticipated film, Cesar Chavez, out in theaters March 28th.
"Cesar Chavez planted hope in a community that had learned to live without it. Making an entire country look at a reality it had previously chosen to ignore…so it's an exciting moment for me, for all of us, to be able to share this story with the world," said Diego Luna, who was in Chicago last Friday for a press junket at the Peninsula Hotel. "I am really looking forward to hearing the reactions," smiled Luna.
Cesar Chavez, starring Michael Peña, America Ferrera, Rosario Dawson, Gabriel Mann, and John Malkovich, chronicles the movement led by civil rights leader and labor organizer, Cesar Chavez. Divided between his duties as a husband and father and his commitment to bringing justice to others, Chavez practiced non-violence action to push for change.
We sat down with Luna to talk briefly about his thoughts on the film and how he hopes it inspires others.
Working on Cesar Chavez
What feels like ten years has only been four years trying to make this film come to life. It was a lot of hard work trying to gather funding for this film. Because Cesar Chavez is such an important figure in American history, we assumed funding to bring his story to the big screen would have been there, we thought Hollywood was going to jump on this and back it up, but the reality was they weren't interested. So we had to go to Mexico to find financial backers and to our surprise there was huge interest. Once word got out that we were interested in bringing the story of Cesar Chavez to life we had a list of actors interested in being a part of the film. So it's been a long process, but very exciting and rewarding for everyone involved.
Apprehension about bringing Cesar Chavez's life onto film
We really wanted to make everyone proud, but we realized it's difficult to do that. We knew we had a responsibility to members of his family and to those who were a part of the movement, like Dolores Huerta, who are alive…so that part made me a little nervous. I had to shut all that out and just focus on the film and the extraordinary people who made the movement an integral part of this country's history. These were people, women, mothers, who knocked door-to-door encouraging others to become a part of the farmers movement and because they all worked together as a collective group the movement was that much stronger.
What he hopes movie goers gain from watching Cesar Chavez
You have a man who believed strongly about addressing social disparities; believed strongly in fighting for what was right; believed in encouraging change without using violent tactics. What I hope people gain from this film is the inspiration to make changes and work with their community. To have the courage to combat social injustices…mostly, I hope audiences around the country are just proud of the film.