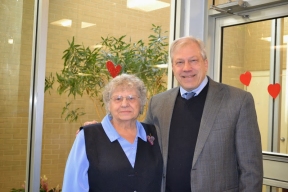 Dolores Prokuski celebrated her 35 years of diligent work and commitment to Community Savings Bank in February. Community Savings Bank President and Chairman Dane H. Cleven commended Prokuski.
"I'm proud to say that Dolores is one of ten employees who have worked at Community for more than 30 years," he said. "On behalf of the bank, its customers and employees, we appreciate her many years of friendship."
Dolores Prokuski is Community's NOW account supervisor, serves on the bank's supervisory management committee and has been involved with implementing new technology at Community.
"What giant strides have been made in technology since I started here in 1979. During my career, computers have dramatically changed the way banks operate internally," Prokuski said. "Helping customers adapt to this new technology is something I have enjoyed here at Community."
Community Savings Bank is located at 4801 W. Belmont Avenue, Chicago 60641. Telephone: 773-685-5300. Website: www.communitysavingsbank.com