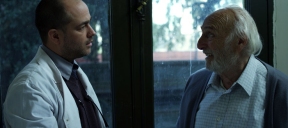 Por: Ashmar Mandou
Por 30 años, el Centro Cultural Latino Internacional de Chicago (ILCC) ha estado deleitando a las audiencias de la ciudad trayendo una gran variedad de talentosos cineastas para mostrar sus últimas obras al Festival de Cine Latino de Chicago. Cada año, la misión del festival de cine es romper barreras, destruir estereotipos culturales y promover el diálogo en base a las películas proyectadas. Este año no es distinto. Con un elenco estelar de películas representando a innumerables países, el Festival de Cine Latino de Chicago seguro va a dejar a muchos asistentes inspirados. El 30º festival de cine de Chicago tendrá lugar del 3 al 17 de abril. A continuación una lista de los principales eventos ocurridos durante el festival de cine.
Noche de Apertura
Tango Glories (Fermín) / Fermín, Glorias del Tango
Presentando una extraordinaria y conmovedora actuación de Héctor Alterio y deslumbrantes números de baile, "Fermín, Glorias del Tango"se enfoca en el psiquiatra Ezequiel Kaufman (Gaston Pauls, "Nine Queens"), a quien le ofrecen una residencia de cuatro años en una prestigiosa clínica.
Presentación Especial
Sobre las Olas: Una Historia de Flamenco en E.U. / Over the Waves – A Story of Flamenco in the U.S.
"Sobre las Olas" explora la tradición en el arte del flamenco en E.U.: sus orígenes, protagonistas y su identidad como una forma de arte nómada e híbrica. Enfocada en los artistas de flamenco más importantes que viven en Estados Unidos, el documental ofrece una vista única a su creativo proceso.
Noche de Clausura
Soy de Chile / I am from Chile
Salvador, de Chile, se va a vivir a Londres para estudiar inglés y viajar por Europa a costa de sus padres. Llega con su tía María, quien se gana la vida decentemente rentando los cuartos del edificio en que vive, a otros inmigrantes. Pero cuando se presenta una crisis financiera, Salvador se queda sin recursos propio y no tiene más alternativa que recurrir a la ayuda de María y sus inquilinos. Para un programa completo y precios de las películas, visitar www.chicagolatinofilmfestivalorg.