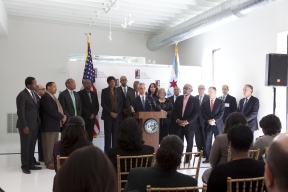 World Business Chicago (WBC) on Monday launched Chicago Anchors for a Strong Economy (CASE). The new program will strengthen Chicago's economy by building ties between the city's largest "anchor" institutions and its neighborhood-based businesses, in turn impacting local firms, increasing community and neighborhood vitality, strengthening the region's business-to-business platform, generating jobs, and helping grow the regional economy.
CASE assesses anchor institutions' product and service needs and compares those needs with neighborhood business assets to make connections for local suppliers of goods and services. Some of the businesses will also have the opportunity to participate in training to prepare them to respond to those procurement needs. CASE businesses will then have the opportunity to bid on contracts from any of the anchor institutions in the program.
To date, anchor institutions including the City of Chicago, Cook County, ComEd, Illinois Institute of Technology, Rush University Medical Center, University of Chicago, University of Chicago Medical Center, and University of Illinois Chicago, have committed to the program.
The CASE program model was developed by the WBC team in close partnership with the University of Chicago, which approached WBC with an interest in pursuing a local purchasing initiative. The University and the Medical Center began work on a pilot program for CASE in mid-2013 focused on building strategic partnerships with local suppliers.
Participating businesses will be chosen based on criteria set by the participating anchor institutions, and Next Street. These criteria include: a local presence, product alignment with anchor procurement needs, and a proven track record indicating strong likelihood of success as an anchor supplier. For more information, visit www.worldbusinesschicago.com/CASE.