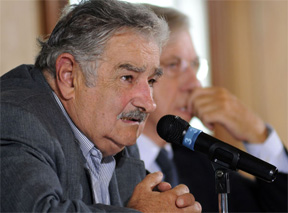 By Daniel Nardini
Current Uruguayan President Jose Mujica has stated that his country will take in some of those inmates who have been incarcerated at Guantanamo Bay by the U.S. military for the last ten years. These include one Palestinian and four Syrians. According to Uruguayan Minister of the Interior Eduardo Bonomi, these inmates have been kept in Guantanamo and never been tried and most certainly have never been convicted for acts of terrorism. The Uruguayan government has stated that these people pose no danger to Uruguay and that the Uruguayan government will take them.
In the case of these five Guantanamo prisoners, if the U.S. government lets Uruguay take them, I see no problem with this. In my view, Guantanamo Bay has been a legal embarrassment to the United States as a judicial black hole. I had hoped that this place would have been closed down years ago, but at least the U.S. government is making an effort now to try and clear the number of detainees who are still there and who should have been tried and/or released a long time ago. I have no problem if the U.S. lets Uruguay takes these five detainees. The biggest problem next to these people being left to rot is that few countries or no other country will take these people.
President Mujica has also requested that the U.S. government allow three "Cuban prisoners" to be released and live in Uruguay in place of them being released and being sent to Cuba. I have a sneaking feeling Mujica is referring to the remaining Cuban Five prisoners who were jailed for providing the Cuban government with information that led to the deaths of four members of the Cuban exile group "Brothers to the Rescue" in 1996. The three remaining Cuban spies, Gerardo Hernandez, Ramon Labanino, and Antonio Guerrero were sentenced to two life time sentences, 30 years and 20 years respectively for information that enabled the Cuban military to shoot down the unarmed Brothers to the Rescue airplane over international waters. The other two members of the Cuban Five, Rene Gonzalez and Fernando Gonzalez, have since been freed and have returned to Cuba.
These three in my view do not deserve any amnesty, and do not deserve any freedom for their actions. To release them to anyone for any reason would be an insult to the families of those dead members of the Brothers to the Rescue. I personally do not see the U.S. government honoring this request, and it should not. I understand why President Mujica is making these requests—long ago he was a leftist guerrilla with the Tupamaros fighting against the government for suspending the constitutional rights of the country. His views may be controversial, but he is also admired in much of Latin America for practicing what he preaches.