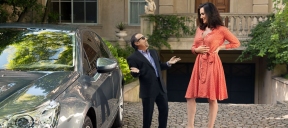 The 30th Chicago Latino Film Festival (CLFF) announced today the winners of the Audience Choice Awards. Even though the CLFF is a non-competitive festival, since 1993 the public has had the opportunity to vote for their favorite film in several categories and award them with the Audience Choice Award.
The winners are:
Best Feature: "Heart of Lion" (Argentina): Marcos Carnevale, director of the Chicago Latino Film Festival's 2011 Audience Choice Award winner "Anita," delivers a touching, romantic comedy that celebrates our inner beauty. Long divorced from her law firm partner, tall and beautiful Ivana receives a call from architect Leon Godoy (Guillermo Francella), who has found her ex-husband's lost cell phone; she falls in love with his voice and agrees to meet with him. But, much to her surprise, Leon is short…really short…he is only four and a half feet tall. She soon learns that height is not a barrier when it comes to love.
Best Documentary: "The Death of Jaime Roldos" (Ecuador): On May 24, 1981, the plane carrying Jaime Roldos, Ecuador's first democratically elected president after years of military dictatorship, his wife and four other people crashed in the mountains. Foul play was immediately suspected. Drawing on more than 80 hours of interviews, archival footage and research, co-directors Manolo Sarmiento and Lisandra I. Rivera draw a compelling portrait of the man and an equally compelling argument for the involvement in his death of the military dictatorships in Chile and Argentina as well as certain U.S. commercial interests.
Best Short: "Albert" (USA/Chicago): After getting out of a long-term relationship, Albert calls on his hard partying, womanizing buddies, Lex and Charlie to get him through the heartache. Will living the single life helps him get over his past or will it only lead to an even bigger headache?
Produced by the International Latino Cultural Center, the 30th Annual Chicago Latino Film Festival (CLFF) took place April 3rd_17th and featured over 120 feature-length and short films from Latin America, Spain, Portugal and the United States at the AMC River East 21.