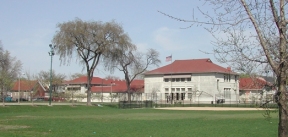 In an effort to combat violence in our communities concerned community members, The Resurrection Project, and U.N.I.O.N. Impact Center will be organizing "Dia Del Niño (Children's Day) Celebration," which will take place on April 26, 2014 from 10 a.m. to 2 p.m. at Cornell Park Square, 1809 West 50th Street in Back of the Yards neighborhood.
Last year in September, Cornell Square Park made national headlines when there was a mass shooting of 13 people at the park. The incident caused fear, anxiety, and uncertainty in the community. According to Maria Ochoa a parent and community member, "Residents are working on initiatives calling for peace and a commitment and working together to find solutions to create a park where children can play and run with joy instead of running to dodge bullets."
Community members and organizations are working together to increase interest in park programs and create dialogue with other community residents regarding issues that affect Cornell Square Park, and to begin to propose solutions to help make the park a community resource, healthy space, and safe haven for youth. "We are coming together with the community to activate Cornell Square Park with positive activities to combat violence. For TRP creating healthy communities is a priority because we're helping create safe spaces for families in their schools and in their parks," says Mayra Lopez, TRP Community Organizer.
Community members have held several meetings and are committed to finding solutions to continue creating safe spaces especially during summer months. Their long-term goal is to rekindle the Park Advisory Council at Cornell Square Park. The event on April 26th is FREE and food and beverages will be provided to attendees.