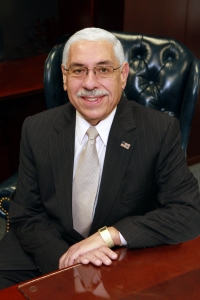 The Cook County Democratic Party on Wednesday unanimously re-elected Joseph Berrios to a fifth term as its chairman.
In addition, the party unanimously re-elected its executive committee – Toni Preckwinkle, executive vice chairman; Lou Lang, executive vice chairman; Tim Bradford, first vice chairman; Carrie Austin, city vice chairman; Don Harmon, suburban vice chairman; Robert Martwick, secretary; Antonio Munoz, treasurer, and Karen Yarbrough, sergeant-at-arms.
"Thank you for your support to lead this great party," Berrios told the committeemen. "When we stay together we stay strong together."
Gov. Patrick Quinn and his Lt. Gov. running mate Paul Vallas addressed the committeemen, calling on their support for the November 4 election. Gov. Quinn called attention to his Republican opponent wanting to lower the minimum wage and opposing "Welcome Home Illinois," a loan program that helps first time home owners with down payments, receiving interest rates as low as 3.75 percent on a 30-year mortgage.
Preckwinkle made the nomination for Berrios to be re-elected. She noted that "under the leadership of Joe Berrios, for the first time, African-Americans, Latinos and women have had a real opportunity for leadership in the party and have had a real opportunity to be slated by the party. The party has gone through rapid modernization under Joe's leadership. We are slating qualified and diverse candidates, resulting in huge progressive victories."
In the March 18 Democratic Primary, the party participated in 28 countywide races, winning all but 3 races.
The Cook County Democratic Party is made up of 50 Chicago Ward and 30 Township Committeemen.