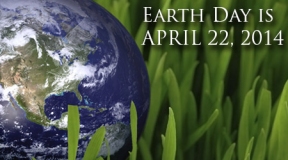 By: Ashmar Mandou
In honor of Earth Day on Tuesday, April 22nd we compiled a list of green tips sure to help you reduce your carbon footprint this year. We pulled tips from various sites that can easily be implemented into your daily life from home lifestyle to pet care to healthier living. Happy Earth Day!
Make it a habit to use nontoxic cleaning products. Brighten up your cubicle with plants, which absorb indoor pollution. If you're a business owner, make it a policy to buy furniture, carpeting, and paint that are free of volatile organic compounds (VOCs) and won't off-gas toxic chemicals.
Much of your munching happens at the office, so keep your own mug, dishware, and flatware at your desk. This will fend off the temptation to use the paper and plastic disposables that are easy to grab in the lunchroom. If you're a workplace manager, provide reusable dishes, silverware, and glasses. Switch to eco-friendly coffees and teas, and buy organic and local food for parties and other events. And remember: Water fountains are always better than bottled water.
Make sure your dishwasher and clothes washer and dryer are full before using them. The aforementioned major appliances consume large amounts of energy, so reduce their use as much as possible by only running them with full loads.
Plant a tree in your backyard. It seems simple, but just one tree can offset tons of carbon over its lifetime. If planted appropriately, it also will provide shade on a sunny day, perhaps reducing the use of energy for air-conditioning in buildings and homes.
Buy items with less packaging, and with packaging that your community recycles. It's convenient to buy snack crackers already divided into even, individual portions in plastic bags, but that creates much more waste packaging than just buying the full box.
Nature-deficit disorder is common among our young people. How can you ensure that your kids don't end up with it? This week's tips tell you how to get your kids away from the video games this summer, and out into nature instead. Find a trail close to home and take the family for a stroll in the woods. If you like, you can bring a field guide or birding book along so that you can work with your child to identify what you see together. Remember to pack adequate amounts of water, snacks, and sunscreen.
Eco-parents, consider giving kids a garden patch that they can design and cultivate on their own (younger children will need some supervision, of course). Cornell University's "Greener Voices" study suggests that children are more engaged in learning when they are responsible for planning and decision making. Even if your child's mini-garden turns out to be a disaster, he or she will still learn a small-scale lesson about the challenges and rewards of caring for the Earth. Check out Cornell's Garden-Based Learning Web site for additional child-friendly garden activities.
Pets are such a source of joy, but America's more than 160 million owned dogs and cats do impact the environment. This week's tips are about how to reduce their environmental paw print. The U.S. pet-product industry rakes in more than $40 billion per year, only $1 billion of which goes to eco-friendly items. Do your part to pump up that number by opting for organic pet food, as well as gear and toys made by eco-minded manufacturers like Scutte, Molly Mutt, and World's Best Cat Litter; a Google search reveals many more. But buying greener doesn't mean you have to buy more. The best way to reduce waste is to ask yourself whether your pet really needs the item you're considering buying.