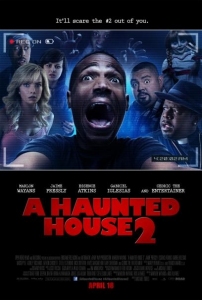 By: Daisy Magaña
Walking into the Waldorf Astoria is certainly no scene in a horror movie. An iconic luxury hotel in Chicago, chic furniture and architecture greet guests along with soft music in the background. The quiet elevator ride to 15th floor stopped exactly there; and rounding the corner, laughter and jokes coming from writer and comedian Marlon Wayans, funny man Gabriel Iglesias and actor Affion Crockett.
What brought them all together? Their recent collaboration in Haunted House 2 to last year's first installation Haunted House. Written by Marlon Wayans, Haunted House 2 is a comedy horror film picking up with Marlon's character starting a fresh new life after escaping the paranormal in the first film. The sequel's inspiration takes elements from various recent horror films including The Conjuring and Paranormal Activity.
Many people are curled under their blankets peering through their fingers when watching those films, but according to Marlon he can watch a scary movie and 1,000 jokes could come to him. "People see things differently," said Wayans. "I don't approach it as a parody anymore because it's not parodies as so much horror comedies with parody moments." One of the challenges he faces when writing these types of horror comedies is patience as in not reaching for a joke or a scene's humor, but letting it organically develop. "Let the story lead and let the jokes follow…creating good, strong characters based on some of the archetypes," said Wayans. "But you still have to create strong characters."
Affion Crockett and Marlon Wayans go back for years and collaborating on this project was yet another opportunity to create a fresh horror comedy with genuine characters. "The character kind of writes itself, but once he gets guys like me and Gabriel we'll bring our own thing to it and something that he hadn't even thought of," said Crockett. "It is always fun to discover the character even more on the spot and that can take the story somewhere else–there's always discovery."
Gabriel Iglesias is widely known for his standup comedy especially within the Latino comedy. In the past few years, he has been transitioning from the stage and sharing his comedic skills on the big screen. "He's just a funny guy no matter what medium you put him in…He's just a loveable, funny dude," said Wayans about Iglesias–although he seems to be fonder of the term "fluffy" as he interjected. Iglesias' recent work has taken him from the stage to the big screen.
"I'm very comfortable in front of a camera," said Iglesias. "I rely on the director and everybody else around me to go, 'ok, either bring it up or slow it down,' and this movie there is a few times where you jump because you get scared." Just as a horror film's release is a scream, the crew makes sure to come full circle and bring a laugh to every scare in this horror comedy. Haunted House 2 comes out Friday, April 18th.