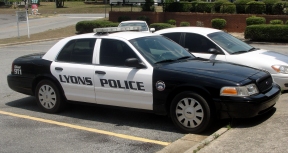 More than 200 residents of Lyons attended the Village Board meeting earlier this month to show support for a re-organization of the Police Department that will save more than $650,000 a year and put police assigned to desk jobs on street patrol.
The majority of the attendees at the April 16th Board Meeting supported the Village reorganization. "There are times when good leaders have to make tough decisions," said Lyons resident Richard Balicki who attended the meeting. "I commend Mayor Getty for making these difficult choices while always keeping the best interest of the tax payers dollars in mind."
Getty and the reorganization also received the support of former Lyons Mayor Marie Vachata who praised the board for working hard to manage the budget and provide a safe community for resident. The reorganization will include laying-off seven police officers with the least seniority and experience.
Mayor Christopher Getty said that the lay-offs were forced on the Village by the Chicago-based FOP Union, which has demanded excessive pay increases of more than 12 percent but has rejected a reasonable increase of four percent made by the Village.
"We have been cutting spending across-the-board in every department. We spent more time carefully addressing the budget and excessive spending in the Police Department than any other department and have been negotiating with the Chicago-based FOP Union for nearly one year in 20 meetings," Getty said. "We thought we had an agreement a few months back but they flat out rejected everything."
Getty said they wanted to increase the ceiling for police salaries from the current $88,000 to more than $101,400, calling it "unjustified and unreasonable." The salaries of the police officers are posted online for public viewing where they are posted every year as a part of the Village's online transparency campaign along with other budget documents.