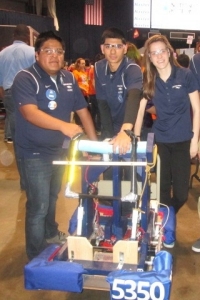 The average class size at Chicago Hope is 12 students. That is not a typo. The student to faculty ratio is 10:1 with an average of 12 students per classroom. The intentionally small class sizes ensure that Chicago Hope students receive as much individualized attention from their teachers as possible. There is no crowd for students to get lost in. Faculty is available before and after school for tutoring and serve as mentors as well as teachers for their students.
The small class sizes are just one reason that Hope maintains a 100 percent College Acceptance rate for its graduates. Hope is a Christian College Prep school. Our college prep curriculum is rigorous and is why we have graduates at great universities like Brown, Wake Forest, and Columbia. As a faith-based high school, every member on staff is a Christian. We welcome students of all spiritual backgrounds and is part of Hope's strong diversity. We have students from all over Chicago, the suburbs, and international students from other countries.
Hope is a small school that fields very competitive athletic programs. The Eagles have won regional championships in multiple sports and students learn the values of discipline, teamwork, and leadership in the process. Students also have the opportunity to participate in extracurricular activities other than athletics, choosing from a wide selection of clubs like chess, art, and robotics.
We welcome you to get to know Chicago Hope Academy for yourself. We are still accepting applications for next year! You can apply online at www.chicagohopeacademy.org. Hope offers shadow days for 7th and 8th graders every Thursday and Friday to spend a day at Hope. Contact the school at 312.491.1600 or go to our website to sign-up. Our next entrance exam is April 26th at 9am.
Chicago Hope is an independent private school. We offer extensive need-based Financial Aid for families that is designed to be as affordable as possible. Academic scholarships are also available for students that score well on the test and have good grades. For any and all information regarding the school or the admissions process contact Hope at 312.491.1600 or go online to www.chicagohopeacademy.org. You can watch videos of why parents chose Hope and start the application.