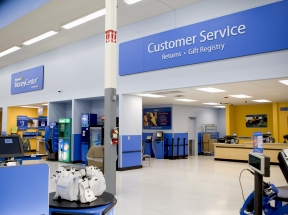 Millions of customers transfer money domestically each year, many of them struggling to navigate the complex and costly fees that come with each transaction. Today, Walmart and Ria are launching a retail industry first – Walmart-2-Walmart Money Transfer Service. Available April 24, the new low-cost service allows customers to transfer money to and from more than 4,000 Walmart stores nationwide for up to 50 percent less than similar offerings on the market.
Walmart-2-Walmart offers a clear fee structure with just two pricing tiers: customers can transfer up to $50 for $4.50 and up to $900 for $9.50. Competitive offerings often include 10 or more fee tiers and charge up to $70 for transferring less than $1,000. Money transfers above $50 make up the majority of transactions in the U.S. Walmart-2-Walmart will bring dramatic savings to these customers.
Walmart also offers other everyday money services such as check cashing, bill pay, money orders and tax preparation services, as well as industry-leading pre-paid card programs though the Walmart MoneyCard, and Bluebird, a checking and debit alternative. These services – and Walmart-2-Walmart – are available at the Walmart MoneyCenter or Walmart's customer service desks. For more information, please visit: news.walmart.com/walmart2walmart.