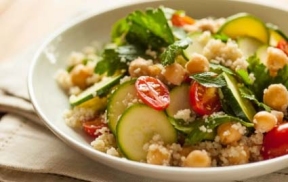 Ingredients:
1 1/4 cup boiling water
1 cup whole wheat couscous
5 tablespoons white wine vinegar
1/4 cup 365 Everyday Value® Organic Tahini
1/8 teaspoon fine sea salt
2 small zucchini
1/4 bunch fresh flat-leaf parsley
1 cup grape tomatoes, halved
1 (15-ounce) can 365 Everyday Value® Organic Garbanzo Beans (also called chickpeas), rinsed and drained
Directions:
In a large, heatproof bowl, pour water over couscous, cover and set aside for 5 minutes. Uncover, fluff with a fork, and set aside to let cool for 5 minutes more. Meanwhile, whisk together vinegar, tahini and salt in a second large bowl. Thinly slice zucchini over dressing, and then use kitchen shears to snip parsley leaves into the bowl; discard stems. Add tomatoes, beans and couscous and toss gently to combine.