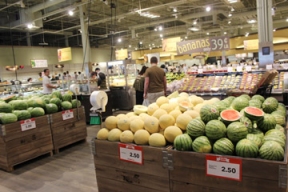 By: Ashmar Mandou
During opening week of Mariano's newest location in Bridgeport, customers got a chance to experience what sets Mariano's apart from other grocery chains. Roundy's Inc., a leading grocer in the Midwest, opened Mariano's Bridgeport, located at 3145 S. Ashland Ave., its third store in the City of Chicago. In its newest location, Mariano's brings over 400 new job opportunities to the community. Marino's includes specialty cheese shop, produce with over 200 organic options, a grill station, floral department, and monthly events for the whole family to enjoy. Among the features,
Vero authentic Italian coffee and gelato shop features premium coffees fresh-roasted locally and homemade gelato
Luxury wines from all regions with personal picks from our wine expert including local, regional and global selections
OKI sushi offers pre-made Maki and unique signature rolls prepared by our onsite sushi chefs
Mariano's Bridgeport is open seven days a week from 6:00 a.m. to 10:00 p.m. The pharmacy is open Monday through Friday, 9:00 a.m. to 9:00 p.m., and Saturday and Sunday from 9:00 a.m. to 5:00 p.m. With this location, there are currently 21 Mariano's locations across Chicagoland.