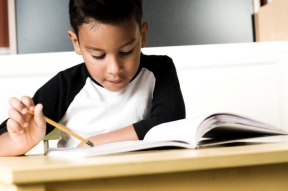 The Afterschool Alliance honored BUILD, Inc in Chicago with the 2014 MetLife Foundation Afterschool Innovator Award. The award, sponsored by MetLife Foundation, recognizes the program's success in using data to improve program and services to better support and benefit middle school students. The award was presented at the "Breakfast of Champions," a gala event in Washington, D.C. featuring Members of Congress and national Afterschool Alliance champions.
BUILD, Inc. was one of only five afterschool programs in the country recognized for using innovative approaches to help middle school students succeed in the programs, school and life. The Afterschool Innovator Award includes $10,000 for BUILD, Inc. to expand its work. Executive Director Dr. Roslind Blasingame-Buford and two students, Zykia D. Pearson (seventh grade) and Jasmine Marchan (eighth grade) accepted the award on behalf of the program.
BUILD, Inc. is designed to help students reduce risk-taking behavior, develop personal competencies, and increase their interest in education and community service. The program includes violence and gang prevention and intervention efforts, health and wellness support, educational assistance, mentoring, and opportunities for leadership. The "Breakfast of Champions" is part of the 13th annual Afterschool for All Challenge, sponsored by the Afterschool Alliance, which brings together hundreds of educators, parents, afterschool leaders and advocates from around the country for a series of events and meetings with Members of Congress.