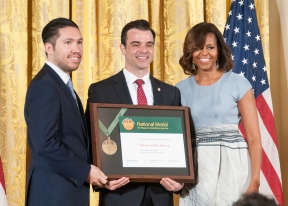 The Chicago Public Library received the National Medal for Museum and Library Service at a ceremony hosted by First Lady Michelle Obama at the White House in Washington, D.C. Mayor Rahm Emanuel and Chicago Public Library Commissioner Brian Bannon, who accepted the award from Mrs. Obama, represented the City of Chicago at the event.
The National Medal for Museum and Library Service is the nation's highest honor for museums and libraries, recognizing service to the community. It is presented each year by the Institute of Museum and Library Services, the primary source of federal support for the nation's 123,000 libraries and 17,500 museums.
The Chicago Public Library recently received the Social Innovator Award from Chicago Innovation Awards; is a finalist for a National Medal for Library Services from the Institute for Museum and Library Services, and was ranked number one in the U.S. and third in the world by an international study of major urban libraries conducted by the Heinrich Heine University Dusseldorf in Germany. For more information, visit www.chipublib.org.