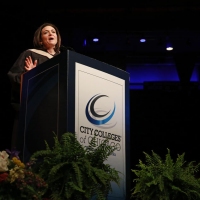 Chancellor Cheryl Hyman was joined by Facebook Chief Operating Officer Sheryl Sandberg in addressing the 2014 Graduating Class of the City Colleges of Chicago at UIC Pavilion on Saturday, May 3rd. This year, City Colleges of Chicago expects to grant the highest number of degrees in its history for the second consecutive year, up from 3,778 degrees in 2013.
The seven college system, serving 115,000 students across Chicago, has become a national model for community colleges which are shifting the paradigm from institutions once focused solely on access to institutions focused on both access and student success. Since Chancellor Hyman launched Reinvention in 2010, the number of students earning degrees each year has nearly doubled as has the graduation rate (from 7 to 13 percent).
Through its College to Careers program, City Colleges has partnered with 200 industry leaders and four year colleges to review curriculum and revamp its occupational programs in six industries expected to generate 80 percent of Chicagoland's living wage jobs over the next decade.
Keynote speaker Sheryl Sandberg, who is also author of the New York Times bestseller Lean In: Women, Work and the Will to Lead and Lean in for Graduates, met with City Colleges seven valedictorians and the student board trustee prior to the ceremony to learn how they have overcome personal challenges and "leaned in" to accomplish their goals.
In her address to the class, Sandberg advised the graduates to: believe in themselves, plan and chase their dreams and remember the world needs them to change it, noting: "Your life's course will not be determined by doing the things that you are certain you can do. Those are the easy things. It will be determined by whether you try the things that are hard. The jobs you want, realize you are not qualified for, and then work like crazy to get the necessary skills."