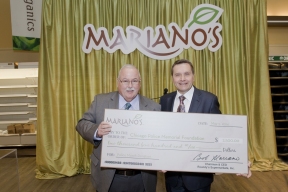 Roundy's, Inc., a leading grocer in the Midwest, opened Mariano's Bridgeport, located at 3145 S. Ashland, this past Tuesday. Bridgeport is the third Mariano's store opening in the City of Chicago of the 11 former Dominick's locations acquired by Roundy's in December 2013. The new location brings approximately 475 new jobs to the Bridgeport community.
"Bridgeport is a great addition to the Mariano's family. I think shoppers will be impressed by our dedication to deliver quality, variety, and value every day," said Bob Mariano, chairman and CEO of Roundy's. "We worked hard to build a strong team ready to bring shoppers the unique Mariano's experience they have come to expect." Including the new Bridgeport team, Mariano's has created over 8,500 new jobs over the past three years.
"Mariano's continues to show its unwavering commitment to Chicago," said Mayor Emanuel. "This store location will provide the residents of the Bridgeport neighborhood with access to fresh, healthy food while acting as an important economic anchor, adding 475 new jobs to the local community."
This unique grocery experience will include signature Mariano's features, such as a specialty cheese shop, produce with over 200 organic options, a grill station and a floral department showcasing over 30 varieties of freshly cut flowers.
Mariano's Bridgeport is open seven days a week from 6:00 a.m. to 10:00 p.m. The pharmacy is open Monday through Friday, 9:00 a.m. to 9:00 p.m., and Saturday and Sunday from 9:00 a.m. to 5:00 p.m. With this location, there are currently 21 Mariano's locations across Chicagoland.