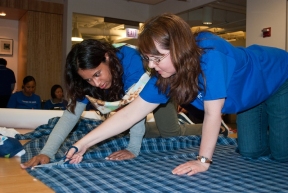 The Charles Schwab Corporation's 11th annual Schwab Volunteer Week begins today in 102 cities across the U.S., during which thousands of Schwab employees and executives team up to help local charities. This year's event has a record number of participants, with more than 3,700 Schwabbies donating approximately 15,000 service hours to 258 projects benefiting nearly 200 charities. Approximately 100 Schwab branch offices around the country are also participating in the company's effort.
Although there is a strong focus on helping nonprofits that work toward building financial capability and well-being, Schwab employees can sign up for a range of diverse volunteer projects. These include light construction, landscaping and gardening, painting and cleaning, meal service, as well as personal finance education. Benefiting organizations include:
Nonprofits providing economic development, professional services and business education, including Pacific Community Ventures, Kiva and Juma Ventures;
Elementary and high schools;
Youth-serving organizations such as Boys & Girls Clubs of America, Homeward Bound and Junior Achievement; and
A wide variety of other organizations including Habitat for Humanity, Goodwill, the Salvation Army and Dress for Success.