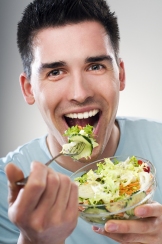 National Men's Health Week is June 9 – 15. This annual health observance is celebrated every June with a goal to heighten the awareness of preventable health problems and encourage early detection and treatment of disease among men and boys.
This year the Illinois Department of Public Health (IDPH) will culminate this week by participating in "Real Men Cook's" 25th Annual Father's Day event to provide FREE health screenings on Sunday, June 15 from 3 – 6 pm.
The event will be held at The Legacy, located at 119th and Loomis Streets in Chicago (4 blocks east of I-57). Real Men Cook® is one of the nation's most highly recognized and favored Father's Day events, featuring food demonstrations and sampling, along with live family-friendly entertainment.
IDPH will also host an "Ask the Expert" Q&A session, where attendees can get answers to their questions regarding health. Topics include: Prostate Cancer and Oral Hygiene.
IDPH Center for Minority Health Services will provide prostate, HIV, hepatitis C, blood pressure, cholesterol, glucose, body mass index and body composition analysis, and dental screenings during the event in the "Health and Wellness Zone" beginning at 3pm.
Real Men Cook® was launched in 1990 and became the largest family celebration in the country. Today, Real Men Cook® is the leading urban Father's Day experience. The event is a food-tasting family celebration featuring men volunteering to cook for and serve the community.