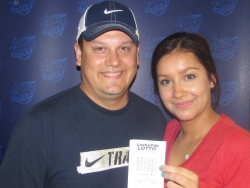 "My sister was my good luck charm!" Adan Aguirre said when he presented his winning Lucky Day Lotto ticket at the Illinois Lottery Prize Center in Chicago. The Cicero resident won a $133,333 jackpot prize when his Quick Pick ticket matched all five numbers – 11 – 22 – 32 – 34 – 37 – in the Tuesday, May 24 evening drawing.
Aguirre was visiting his sister Diana for Memorial Day weekend when he asked her to buy him a Lucky Day Lotto ticket when she ran to the store to buy snacks. Diana did him the favor and bought one Quick Pick ticket. The next morning Aguirre used his phone to check the winning Lucky Day Lotto numbers on illinoislottery.com. When he realized he'd won, he rushed to his sister's house to share the news. "She didn't believe me, especially because it was her first time ever buying a lottery ticket!"
The winning ticket was purchased at Berwyn Amoco, 3845 South Harlem Avenue in Berwyn. Jackpots for Lucky Day Lotto start at $100,000. Drawings are twice a day, seven days a week with an average of 40,000 winners every day. That's over 250,000 winners in Illinois each week! For more information, please visit www.illinoislottery.com.