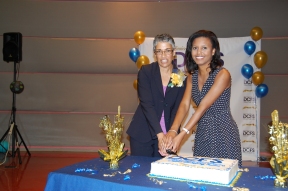 Staff members, partner groups, and elected officials celebrated the 50th birthday of the creation of the Illinois Department of Children and Family Services (DCFS) in 1964 on Tuesday, June 17th. For the past 50 years, the people of DCFS along with their partner groups have been on the front lines of protecting children and supporting families.
When Illinois DCFS was established on January 1, 1964, it became the nation's first cabinet-level state child welfare agency, as well as the first state agency to combine child welfare, special education and rehabilitation services under one roof. Its roots stretched back to county-based agencies and a state public welfare agency – the Illinois Department of Public Welfare, established in 1917.
The Department, empowered by the state's Child Care Act, licensed 94 institutions, 951 day care centers and 10,000 foster homes by 1966. The Department also established two statewide advisory committees on day care services and licensing, and opened two of its day care centers to train child care workers and encourage the private sector to open more centers. Currently, Illinois DCFS serves approximately 15,000 children each year as well as works with 60,000 families.
Illinois DCFS receives, investigates and acts upon a report of child abuse or neglect every five minutes, child sex abuse every two hours, and the death of a child by abuse or neglect every day and a half. Tens of thousands of children are safer thanks to those who call our Child Abuse Hotline at 1-800-252-2873 each year. Working together, we can ensure a safe, loving home and brighter future for every child.
CAPTION
From Left to Right: Jess McDonald, State Rep. Patricia R. Bellock, Wynn Korr (wife of first director Don Brieland), Dixie Peterson, Arthur Bishop, D. Jean Ortega-Piron, Acting Director Bobbie Gregg, Sue Suter.
Acting Director Bobbie Gregg, Governor Quinn's Deputy Chief of Staff Samantha Fields cut ceremonial cake.